Thoughts From A Camp Erin Volunteer
"Like everybody else, I had a lot of feelings after volunteering at Camp Erin,
and my best outlet was to write all (or at least some) of those feelings down at the end of each day,
but then all that journaling turned into a blog post, which I'm happy to share."
– Tanner Cipriano
(blog excerpt)
Because friends may not be close in age. Friends may not know each other for very long. And sometimes friends may not even get along that much.
But true friendships are formed through connections. And this friendship is connected by death.
Death is not simple. Death is not easy, but death brought this 24-year-old, this 9-year-old, and this 7-year-old together, and right now, at 6:43am, all three are walking across camp as friends; helping friends sharing a group shadow, which is one nice thing about death.
DOWNLOAD OUR 2018 IMPACT REPORT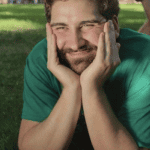 About Tanner Cipriano
A Camp Erin LA volunteer,
blogger, and aspiring
film and television producer.