Grief & Physical Distancing During COVID-19
In the midst of the global COVID-19 pandemic and the Safer at Home ordinance, those who are grieving may find themselves in a unique place. As described in our Natural Grief Responses info sheet, grief is experienced in a variety of ways. During this period of physical separation, you may find your grief impacted differently.
You may have already been distancing yourself out of self-preservation. Maybe your grief has changed your motivation and priorities, and social interactions have left you feeling more depleted. Maybe when you've tried to talk to friends and/or family members, it's possible that they have not understood your pain, so you've found it easier to talk to just a few people about it.
Alternatively, social interactions may be a refuge for you from your grief, and not being able to visit friends, participate in a book club, or play cards feels impossible. Maybe you are finding your stress levels increasing with the news of each day. Maybe your loved one who died would have known exactly what to do or say to help, and you're just missing them.
Whatever your experience is, it's important to check in with yourself. Below are some tips for where to start:
Take a few deep breaths: in for 3 beats…hold for 3 beats…and out for 3 beats, then repeat two or three times. Ask yourself without judgment, "How am I doing today? What emotions are coming up for me? How is it affecting me: in my mind, in my body, in my behavior?"
Once you have an idea of where you are, you can start to ask yourself what would be the most helpful for you. There is no formula that will work for all, so spend some time exploring what will work for you, regardless of what others tell you about what you "should" be doing.
Try a video call with someone who "gets it," whom you can talk to about what you are experiencing. Perhaps read a book and call a friend or a member from your book club to discuss the book.
It could also be meaningful to call a therapist (or your own if you already have one) to check in and talk about what you're experiencing. There are also state and county Warm Lines, where you can call for non-emergency emotional support (see below for information*).
Try a simple art project or craft to keep your mind and hands busy. Listening to or making music can be meaningful for some. Check out your favorite artists' websites and social media accounts, since many are doing live video performances. For some, it may be watching a funny show or movie that brings them comfort, distraction, or levity in a stressful time. Maybe writing will be meaningful: a letter to someone, journaling, or emailing.
Remember that whatever you are experiencing and whatever you find that works for you, there is support out there:
OUR HOUSE clinical staff is available by phone at 310-473-1511 and email at ourhouse@ourhouse-grief.org to provide referrals for individual therapists and resources.
*CA State Warm Line phone number for non-emergency emotional support (24/7): 1-855-845-7415
*LA County Warm Line for non-emergency emotional support (10pm-6am): 1-855‐952‐9276
If you are experiencing suicidal thoughts and/or an emotional crisis, please call the National Suicide Prevention Hotline: 1-800-273-8255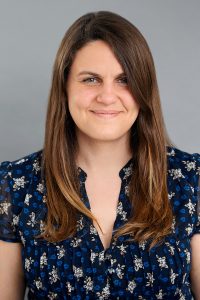 Maddy Goodreau, LCSW
Maddy Goodreau is the Senior Clinical and Volunteer Coordinator at OUR HOUSE Grief Support Center and a Licensed Clinical Social Worker. At OUR HOUSE, she trains and guides volunteer group leaders to hone in on and use their empathy, warmth and desire to give back, to hold space for those who are grieving. Maddy has over ten years of non-profit experience, through which she has developed a thoughtful clinical eye. That, along with her deep commitment to the value and dignity of each life and the critical importance of the formation of positive relationships are the guiding forces of her professional work. She received a Master of Social Work degree from Loyola University Chicago.