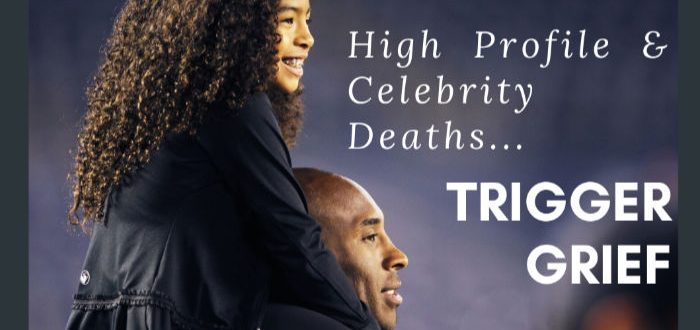 High Profile Deaths Trigger Grief
My heart goes out not just to the Bryant family, the Chester family and the Altobelli families, but to families like Sandy Banks and her children, who were re-traumatized by this death. Whether you and your family experienced the death of someone close this week, this year, or 20 years ago, the death of a high profile figure like Kobe Bryant — who was additionally an involved father — can trigger feelings of grief that you experienced in the early days after your loved one died.
In addition, early parental loss is re-experienced by children each time they enter a new phase of their life or are reminded of the tragedy that robbed them of their parent. We thank Sandy Banks for so eloquently sharing her own families' reactions to the Bryant helicopter crash because other grievers in our community will surely relate and identify with her poignant words.
If your family is wondering how to talk to children about Kobe Bryant's death, visit our website ourhouse-grief.org for suggestions how to talk to children about death.  If you are a fan of Kobe's, your child will be witnessing your grief, so it's best to tell them about Kobe's death if they haven't already heard.  Be sure to speak in age-appropriate, honest language and avoid talking about death with euphemisms which add to the confusion that grieving children may be experiencing. Acknowledge and validate all their feelings and encourage them to express their feelings verbally, in writing, through art, or by physical outlets like sports or dancing.
If children are fearful that you might die, explain that what happened to Kobe was very unusual and that you and most people they know will live to be very, very old because that is statistically true.  If they fear flying or you flying, tell them that commercial airline travel is very safe and be sure and discuss who would care for them if you were unable to care for them.   If you have concerns about your child that persist for more than two weeks and that are interfering with their day to day functioning, always seek professional attention or visit our website www.OurHouse-Grief.Org for support.
For information about grief support programs in your community visit OurHouse-Grief.org or call 310.473.1511 or our toll free number 888.417.1444. 
Lauren Schneider, LCSW is the Clinical Director of Child and Adolescent Programs at OUR HOUSE Grief Support Center in Los Angeles. 
She is an authority on children's grief and the author of "Children Grieve Too: a handbook for parents of grieving children" as well as "My Memory Book…for grieving children."